Traktor 2.5 really is fantastic – manages perfect sync on almost all the dubstep I throw at it, but only counts half the BPM on DnB tracks which is annoying. Simple enough (if time consuming) to sort, although my brain needs a calculator to work out what 86.35 bpm is when doubled 🙂
So, moving forward & keeping a super tight budget, I'm borrowing a super small Numark DJ2GO unit from a mate at work, plus a 4ch USB sound card. If it does the trick I'll gladly part with the £20 he suggested !! He just doesn't use it or anything similar these days, which is a bonus for me!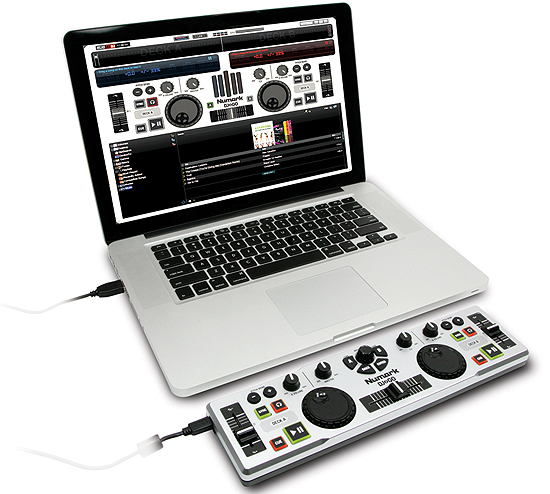 Reviews of these wee devices all pretty much love it [LINK] as a compact, clean controller.
Despite the small size they're apparently well built, good fun to use and interface neatly with Traktor, after a little midi-mapping of course!
Talking of mapping, there's a couple of options;
Numark's official map for Traktor 2.5 is here: https://www.numark.com/dj2go
or a customised map with improved file browsing, control of effects & a bunch of other stuff is here: http://www.traktorbible.com/freaks/mappingview.aspx?id=427
So, I'll have a play this weekend, see how it all works and let y'all know!
He-he – I say Y'ALL like anyone actually reads this crap, or even visits the page 😆
Where in fact it's simply a receptacle for any links & useful bits I find online when not at home.
Still, it's more fun than simply emailing the stuff to myself, like who'd be sad enough to do that? 😉
IF I actually get this lot working, I might even record & upload a Dubstep – DnB set for a grin!